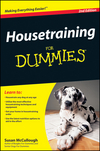 Housetraining For Dummies, 2nd Edition
ISBN: 978-0-470-47637-6
Paperback
224 pages
August 2009
US $16.99

Add to Cart
Introduction.
Part I: Preparing to Potty Train Your Pooch.
Chapter 1: No, Virginia, It's Not That Hard: Understanding Housetraining Basics.
Chapter 2: Training the Housetrainer: Taking the Right Approach.
Chapter 3: Getting Your Home in Housetraining Order.
Chapter 4: Feeding Fido: What Goes In Must Come Out.
Part II: Putting a Plan in Place.
Chapter 5: Training to Love the Crate.
Chapter 6: Heading to the Outside: Outdoor Housetraining.
Chapter 7: Making Some Inside Moves: Indoor Housetraining.
Chapter 8: Fine-Tuning Housetraining.
Part III: Solving Housetraining Problems.
Chapter 9: Accident-Proofing Small Dogs and Other Problem Potty-ers.
Chapter 10: Understanding How an Oh-No Can Become a Problem-o.
Chapter 11: Sorting Out Humans' Housetraining Challenges.
Part IV: The Part of Tens.
Chapter 12: Ten Housetraining Mistakes You Don't Have to Make.
Chapter 13: Ten Reasons Housetrained Dogs Live in Happier Households.
Appendix: Other Helpful Pit Stops for Housetrainers.
Index.