Stocking Up on Knitting Essentials
For the most part, knitting gadgets are small and portable. Keep these essentials in a little zippered bag, and you can carry them anywhere your knitting goes.
Scissors or thread cutters
Small, portable scissors are a must. In a pinch, you can break certain yarns with your hands, but others have to be cut with scissors. Collapsible scissors that fold up and don't leave any sharp points exposed are great. You can find them in most knitting stores. Other small scissors come with a little sheath that covers the tips so that you can carry them in your knitting bag without them poking through.
A thread cutter is a small, portable scissor substitute meant only for cutting yarn. It resembles a disc with notched edges and can even be worn as a necklace while you work so that it's always at hand.
If you're traveling by plane and want to carry on your knitting, be sure to check with the Transportation Security Administration (TSA) for restrictions. As of this writing, knitting and crochet needles are generally permitted in carry-on luggage, but scissor size is restricted for carry-ons, and thread cutters with blades have to go in your checked baggage. When traveling, consider bringing fingernail clippers or an empty dental floss case to easily snip your yarn while in flight.
Tape measure
A small retractable tape measure marked for inches and centimeters can go anywhere. Use it to measure your gauge swatch and to check your knitted pieces as you go along.
Tapestry needles
Tapestry needles, also called yarn needles, are simply large-eye needles with a blunt point that you use to sew knitted pieces together. When joining pieces of knitted fabric, you're working in the spaces around the stitches, not through the yarn strand. A blunt point ensures that you don't split the yarn.
Safety pins
Safety pins are handy for a variety of tasks. Pinned to your piece at strategic points, they can help you keep track of when you've worked an increase or decrease or signal the right side of reversible fabric. They work well as miniature stitch holders for small groups of stitches and for securing dropped stitches. In knitting shops and specialty catalogs, you can find several sizes of pins without coils, which are less likely to catch on your yarn than regular safety pins.
Needle gauge and tension gauge
Needle gauges and tension gauges are indispensable. A needle gauge is a small rulerlike gadget with graduated holes in it for measuring the size of your knitting needles. If you knit a lot on circular needles, which frequently aren't labeled for size, or if you're prone to finding a lost double-pointed needle under the sofa cushions, a needle gauge is essential for size identification. Buy one that shows both metric and US sizes.
A tension gauge (also called a stitch gauge) often comes as part of a needle gauge. It's a flat piece of metal or plastic with a 2-inch L-shaped window for measuring stitches and rows. You lay the tension gauge over your knitting, lining up the window along a row of stitches horizontally and vertically, and count the rows and stitches exposed. The drawback to using this tool is that 2 inches isn't always a large enough measure for an accurate gauge count. You can see a typical combination needle and tension gauge in the figure below.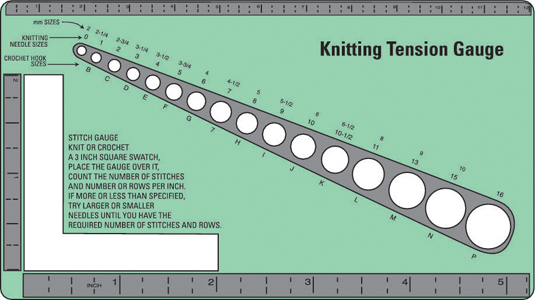 A common needle and tension gauge.
You can make a great tension gauge by cutting a very accurate 4-inch window in a piece of sturdy but thin cardboard. Lay this tool over your knitting and clearly count 4 inches worth of stitches and rows.
Cable needles
A cable needle is a short needle that's pointed at both ends, has a divot or curve toward the middle, and is used to hold stitches temporarily while you work on their neighbors. There are several versions of the two main types: U-shaped and straight (see Figure 2-11). Try out a couple of styles to see which you like better.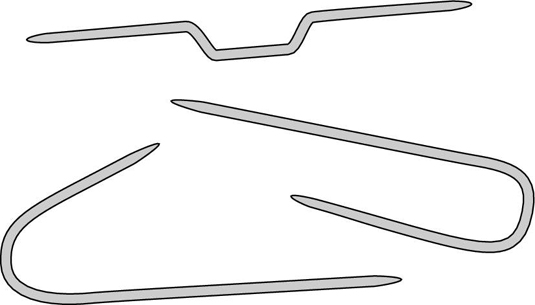 Cable needles.
In a pinch, you can use a double-pointed needle or even a long nail or toothpick as a cable needle, but a tool especially designed for this task is best and a small price to pay for its convenience. Obviously, if you don't plan to knit cables, leave this item off your list.
Crochet hooks
Even if you don't plan to crochet edgings on your knits, a crochet hook comes in very handy when picking up dropped stitches. They're sized by number and/or letter. A medium-size one, say, 5 mm or so, is good for your supply bag or basket.