Managing Your WordPress Network Settings
WordPress's Network Admin Dashboard has its own set of menus separate from the regular Site Admin Dashboard. Those menus provide all the tools you need to manage your WordPress network. All the items in the Network Admin Dashboard are important, and you will use them frequently throughout the life of your network.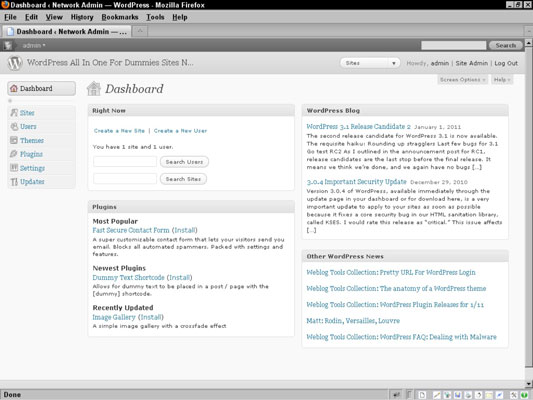 Performing some preliminary configurations on your network before you do anything else is important. Therefore, the following discussion covers the Settings menu.
The Settings page contains several sections of options for you to configure to set up your network the way you want to.
Operational settings
The operational settings are Network Name and Network Admin Email:

Registration settings
The Registration Settings section let you control aspects of the users sign up process.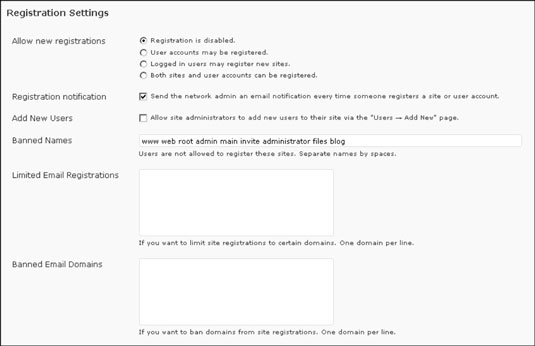 From one of the following options, decide how you want registrations to be handled on your network:
The remaining options under the Registration Settings heading are as follows:
New site settings
The New Site Settings section is a configurable list of items that populates default values when a new site is created.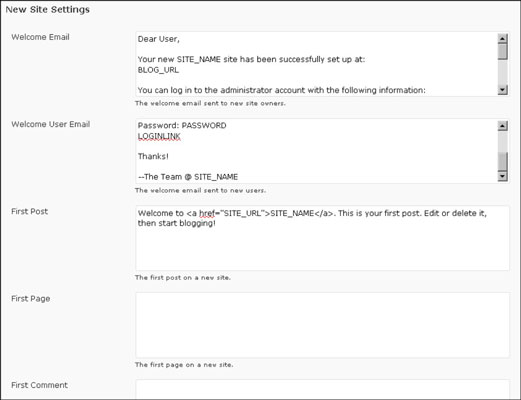 Upload settings
The Upload Settings section defines global values pertaining to the type of files you will allow the site owners within your network to upload using the file upload feature on the WordPress Write Posts and Write Page areas.

Enabling file types displays the upload icons above the post box on the Write Page and Write Post pages in the users Dashboard. In some situations, you may decide to disallow certain file types.
The Site Upload space defines the default storage space you give users to store the files they upload to their blogs.
The Upload File Types text field defines the types of files that you will allow site owners to upload to their sites in their Dashboard.
The final option under Upload Settings defines the Max Upload file size. This amount is in kilobytes (K), and the default file size is 1500K.
Menu settings
The Plugins menu is disabled within the Dashboard of all network sites (except for the network admin's). However, the network admin always has access to the Plugins menu. If you leave this option unselected, the Plugins page will be visible to users on their own site dashboard. Place a check mark in the box to enable the Plugins menu for your network users.