How to Get Music from the Google Play Store for an Android Phone
Just like those popular mobile-music gizmos that rhyme with "pie rod," your Android phone can play music. You can listen to songs you buy online, synchronize them from your computer, or find music on the Internet. Wherever you go with your phone, which should be everywhere, you also have your music library.
It's possible to get your music from the same source where you buy your apps, the Google Play Store. Here's how it works:
Open the Play Store app on your phone.

You can quickly get to the Google Play Music store by touching the Play Store button in the Play Music app.

Choose the Music category.

Use the Search command to locate music you want, or just browse the categories.
Keep an eye out for free music offers at the Play Store. It's a great way to pick up some free tunes.
Eventually you'll see a page showing details about the song or album. Choose a song from the list to hear a preview. The button next to the song or album indicates the purchase price, or it says FREE for free music.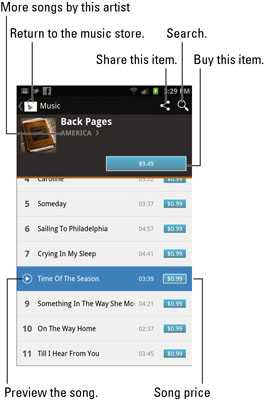 Touch the price button to purchase a song or album.

Don't worry, you're not buying anything yet.

Choose your credit card or payment source.

If a credit card or payment source doesn't appear, choose the option to add a payment method. Sign up with Google Checkout and submit your credit card or other payment information.

Touch the Accept & Buy button.

The album or song is downloaded into your phone.
A Google Play Music notification appears when the album or song has completed transfer into your phone. You can then use the Play Music app to listen to the new music; you'll find it quickly by choosing the Recent category from the Play Music app's main screen.
All music sales are final.

If you plan on downloading an album or multiple songs, connect to a Wi-Fi network. That way you won't run the risk of a data surcharge on your cellular plan.

The Google Play Music notification icon is the same that appears when you download a new app for your phone. The notification name, however, is Google Play Music.

You'll eventually receive a Gmail notice regarding the purchase. The Gmail message lists a summary of your purchase.

Music you purchase from the Google Play Music store is available on any mobile Android device with the Play Music app installed, providing you use the same Google account on that device. You can also listen to your tunes by visiting the music.google.com site on any computer connected to the Internet.