How to Fill Out Your Fantasy Football Roster
When draft day arrives, all the owners in a fantasy football league gather at a central location or log into the specified web service's draft utility and meet virtually. The goal for each owner is to draft a team roster of 15 to 18 players.
How many players to draft at each position is up to you, but the traditional combination of players to draft: two quarterbacks, four running backs, four wide receivers, two tight ends, two kickers, and two defense/special teams (punt and kickoff return) units.
Each owner selects one player at a time. Generally, the online service randomly chooses the order or, if drafting offline, the commissioner draws numbers out of a hat to determine the draft order. The owners make their picks in order for the first round. Then they reverse this order for the second round.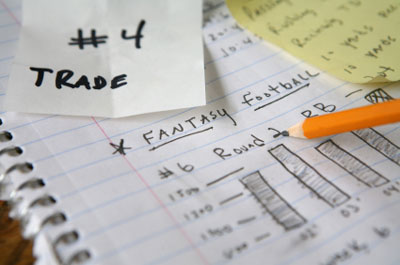 Credit: ©iStockphoto.com/spxChrome 2009
For example, in an eight-person league, Owners 1 through 8 make the first eight selections in order, completing the first round. Then as the second round starts Owner 8 gets the ninth pick, Owner 7 gets the tenth pick, and so on down to Owner 1, who makes the sixteenth and seventeenth picks, and so on until all owners fill their rosters.
If drafting offline, before the draft, designate two people to record all the player selections. Accurate records can help resolve conflicts that may arise later. If you are using an online service, the draft utility will take care of all record keeping.
Each week, you enter a starting lineup made up of the following players: one quarterback, two running backs, two wide receivers, one tight end, one kicker, and one defense/special teams (punt and kickoff return) unit.
You draft an entire team's defense and special teams. If your team's defense or special teams unit scores a touchdown, records a safety, or performs various defensive feats like an interception, a fumble recovery or records a sack you get points.
The remaining players are reserves. These players' statistics don't count while the players sit on your bench; instead, reserves serve as backups for your starting lineup. Here's why reserves are important:
They replace poor-performing starters: If your quarterback, for example, plays poorly, you can replace him in your starting lineup the following week with your backup quarterback.

They replace injured starters: If your star running back breaks his leg (gasp!), you simply start your backup running back the following week.
It's important to choose all your drafts carefully in fantasy football, including your reserves. Although reserve players' statistics don't count while the players sit on your reserve squad, they are important because they replace poor-performing starters, they replace injured starters, and they replace players on bye weeks.