How to Check Out Your Competition on the Web
If you want to optimize your Web site for better search engine ranking, it's vital that you check out the competition in your field. One of the easiest ways to research your competition is using a search engine.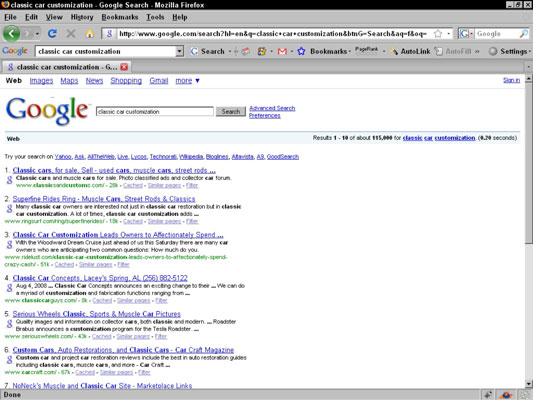 A Google search result for classic car customization
Use the keywords you came up with for your own site and plug them into the query window. Google bolds your search terms in the search results, so pay attention to those words and the text surrounding them. Google also provides you with disambiguation options when appropriate, as in a "Did you mean ___?" phrase. In the above figure, the search for classic car customization returns 115,000 results. The top ten results returned are worth mining for keyword ideas.
Check out the highest listings and make note of the keywords they use on their pages. The guys who have the highest rank are your competition for those keywords, and to have such a high listing on the search engine, they're obviously doing something right.
After you've identified who your competitors are, it's time to do some research. Look at any print materials they've put out, along with what's on their Web site. Pay attention to how they market their product or service, and what words they use to describe themselves. This is important especially if you're looking to draw industry traffic to yourself or obtain links from other industry sites. Look at their site navigation, check out their metadata, and read their content and press releases.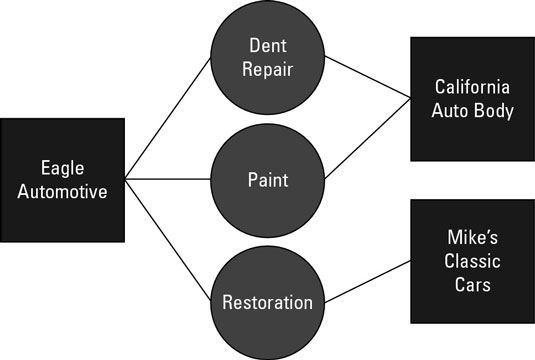 A bubble graph is a good organizational technique for assessing your competition.
Say your business is customizing classic cars, where you restore, repaint, and rev up any old model American car. To figure out your competition, sit down and think about the kind of competitors you think would be in your market. Who is your competition? Other classic car customization places. Other people who do paint and body work. Other businesses that offer simple customization services. Write them all down, even ones you think would only be loosely connected. The above figure is a brainstorming graph of your business and what you do that links your competition to you.
Using this list, research all of these other companies, while asking yourself some questions about these areas of their business:
Tactics: How do they advertise?

Similarities: What services do they offer that are similar to yours?

Differences: What services do they offer that are different?

Success rate: Do they get more or less business than you?

Opportunities: What are some of the things they are doing that you could be doing, too?
This approach is a good way to start market research. You also need to remember to continue doing this, as businesses, and especially Internet businesses, are subject to changing their tactics and offerings. Every market differs, but you probably want to do a review of your competitors four to six times a year.