Covers for Your Kindle Paperwhite
Kindle Paperwhite covers are available in a variety of materials, from fabric to leather to neoprene, at prices ranging from less than $20 to more than $200. To get a sense of the variety out there, go to Amazon and choose Kindle→Accessories from the navigation menu at the left. On the page that appears, you'll see covers featured prominently.
Secure the device
Most covers are secured to the Kindle Paperwhite using one of the following options:
Tabs: Simply slip the Kindle Paperwhite under the tab in each corner to hold it in place. Covers from Belkin, M-Edge, and Oberon are popular examples of covers that use tabs.

Oberon Design, a small family-owned business based in Santa Rosa, California, makes hand-tooled leather covers, such as red Gingko, purple Roof of Heaven, and navy Hokusai Wave.

Drop-in/snap-in: Drop the Kindle Paperwhite into a snap-in frame. The Amazon cover uses this design. Pad & Quill makes a wood and leather snap-in case that looks like a book when closed.
The Amazon cover
The newly designed cover from Amazon deserves special mention due to its unique feature: Open the cover and the Kindle Paperwhite turns on; close the cover and it puts the device to sleep. This "magic" is accomplished by a small magnet built into the corner of the case. The cover is made of leather with a felt lining on the inside front cover and is available in seven colors.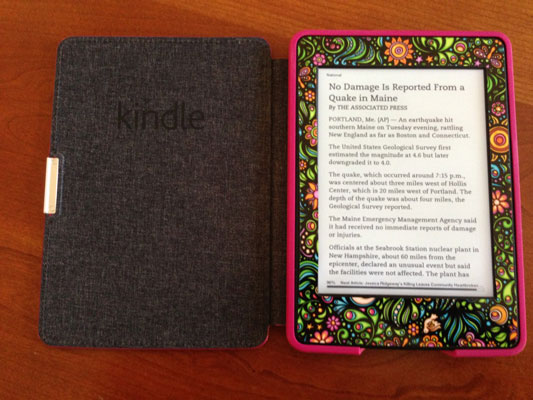 If you put a small magnet in the corner of any cover with a front pocket (such as the one from Oberon), the cover will wake up your Kindle Paperwhite automatically when you open it and put it in sleep mode when closed.
The Kindle Paperwhite is a delicate electronic device that can be damaged by moisture, dust, sand, or soot. If you regularly read outside at the beach or next to the pool, consider a plastic jacket or case to protect your device. Two popular options follow:
The Medium Whanganui case from Aquapac: This case floats and is submersible up to 15 feet. The company is based in London.

The WaterGuard case from TrendyDigital: This case has a variety of options, including different colors and padding.
For an inexpensive alternative, put your Kindle Paperwhite in a plastic one-quart reclosable storage bag. You can still read the screen and navigate with the touchscreen.