How to Modify a WordPress Blog
How to Modify a WordPress Blog
After you install a WordPress blog, you can modify the blog to suit the website to which it's linked. You can modify an existing theme (skin) or choose one of the alternates that are available after you install WordPress. Make sure that the template you choose looks similar to your main website.
However, WordPress is a popular application, and many developers have created themes for the application. If you're using the blog in conjunction with a website, you may be able to find a blog theme that has similar colors, or locate a blog theme that gives you the option to change colors through the WordPress dashboard.
To modify the look and feel of your WordPress blog with a theme, follow these steps: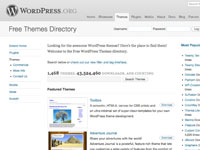 The WordPress Free Themes page appears.
2

Navigate to a theme you like.

As of this writing, you can pick from more than 1,400 themes. You can speed up your search by displaying themes that have color schemes similar to the site to which they'll be linked. You can sort by color by enabling one or more check boxes.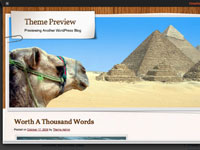 3

Click the thumbnail to preview the theme in your browser.

The test site for the theme you selected appears in a new browser window.
4

When you find a theme you'd like to use, click the Download link.

Then follow the prompts to download the file to your desktop. Unzip the file.
5

(Optional) Modify the theme in your HTML-editing application.

Modifying a blog theme is not for the faint of heart. If you'd like to have a go at modifying your own blog, make sure you keep a backup of the original blog files on your desktop computer. If you make a mess of the modification, you can upload the original files to make your blog right with the world again.
6

Upload the Themes folder to the following directory on your server: www.mywebsite.com/blog/wp-content/themes.

This folder is created by default when you install WordPress on your webserver.

Now you can change the look of your blog.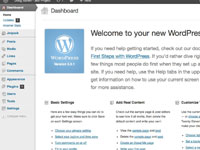 7

Log in to your blog.

When you log in as administrator, the Dashboard section of your blog appears, which is where you administer the blog, write new posts, add new users, and so on.
8

From the Dashboard menu, choose Appearance→Themes.

Your web browser refreshes and displays default themes and any themes you uploaded to your server. Note the Install Themes tab. There, you can upload and find themes from within your blog instead of going to the WordPress site and downloading a theme.
9

Select the desired theme.

The previously used theme is replaced.