How to Install Safari Testing Extensions
How to Install Safari Testing Extensions
Safari or Chrome installed on your computer will help you test your website meant for the iPhone and iPad. They render mobile sites similarly to how they would be rendered on an iOS device, and they have development tools built in that can help you troubleshoot your code.
Safari extensions are super simple to add to your browser. You don't even have to download them before you install them, as you do with Firefox. With Safari, follow these simple steps to install an extension: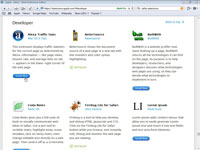 2

Find the extension you want.

You can find any extensions listed in the preceding section by typing its name in the Search field on the Safari Extensions Gallery page or by clicking the Developer link to display all the extensions.
3

Click the Install Now button.

You don't even have to restart Safari to make the extension active. After an extension is installed, the blue Install Now button (shown in the figure, below the Alexa traffic statistics), changes to the green Installed icon (shown below the Better Source Extension).