How to Use Google Webmaster Tools
How to Use Google Webmaster Tools
With a Google account, you can access Google Webmaster tools and get a plethora of information and tools to give you a fighting chance against competing websites. Google is decidedly the king and queen of search engines. More people use Google to find stuff on the Internet than any other search engine. Therefore, it's imperative that your site rank well in a Google search.
You optimize the site for SEO and submit it to search engines, and sometimes hope for the best in spite of the best tools and advice that money can buy. Fortunately, you don't have to be a rocket scientist to analyze your results if you have a Google account. To use Google Webmaster tools
1

Open your favorite web browser and navigate to the Webmaster tools.

The Google login page appears. If you don't have a Google account, you can set one up on this page.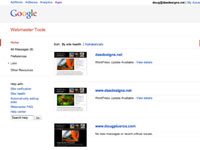 2

Log in to your account.

After you log in to your account, the Google Webmaster Tools page appears. Note that several sites have been added to the account.
3

Click the Add a Site button.

The Add a Site dialog box appears.
4

Enter the URL of the site on which you want to use Webmaster tools.

Be sure to include www. before the domain name.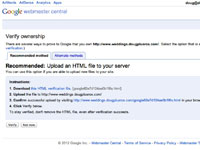 5

Click Continue.

The Verify Ownership page appears. This page gives you the option of verifying that you are the owner of the website whose URL you entered in Step 4.
6

Click the link to download the HTML verification file.

This is an HTML file that you put in the root directory of your website.
7

Upload the file to your website.

Use the FileZilla FTP client to upload miscellaneous files to a website.
8

To make sure the file made it, click the link to navigate to the HTML file you just uploaded to your site.

Big brother at Google knows whether you've visited the page.
9

Click the Verify button.

Google verifies that you're the owner of the site and displays a congratulations page. Make sure you leave the HTML file on the site.