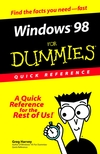 Windows 98 For Dummies: Quick Reference
ISBN: 978-0-7645-0254-5
Paperback
224 pages
June 1998
This title is out-of-print and not currently available for purchase from this site.
Feeling a little overwhelmed by all the hype and hysteria surrounding the release of Microsoft's Windows 98? Looking for a clear, concise guide to all things 98, where you can find what you want quickly and efficiently, without having to search through long-winded manuals the size of big-city telephone books? Let your fingers do the walking through the facets and features of Windows 98 with Windows 98 For Dummies Quick Reference, the fast and friendly one-volume source to answer all your Windows 98 questions.

Windows 98 For Dummies Quick Reference is packed with helpful advice and timesaving tips to make your Windows 98 learning curve smooth and gentle. All of the Windows 98 tools, components, commands, and tasks are presented in easy-to-find alphabetical order with clear, step-by-step directions. Whether you're new to Windows or are upgrading from a previous version of Microsoft's world-famous operating system for PCs, you can find everything you need to know packed between the covers of this slim, comprehensive book.