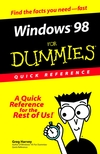 Windows 98 For Dummies: Quick Reference
ISBN: 978-0-7645-0254-5
Paperback
224 pages
June 1998
This title is out-of-print and not currently available for purchase from this site.
Intro: How to Use This Book.

PART I: Windows 98 Up Close and Personal.

PART II: Windows 98 and the Web.

PART III: Doing Everyday Stuff in Windows 98.

PART IV: Accessories and Control Panel Settings for Every Appetite.

Glossary: Techie Talk.

Index.

Book Registration Information.