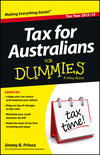 Tax For Australians For Dummies, 2012 - 13 Edition
ISBN: 978-1-118-55119-6
Paperback
288 pages
June 2013
This title is out-of-print and not currently available for purchase from this site.
Take on your tax with confidence and get the most out of your next tax return
Do you want to be sure you're getting the maximum tax refund? Of course you do! And Tax For Australians for Dummies, 2012-13 Edition is the only resource you need to ensure that you get every cent you deserve. Written by respected tax specialist and CPA fellow Jimmy B. Prince, this book guides you, step by step, through the complex world of the Australian tax system to help you understand exactly what you can claim.
Providing complete coverage of changes to tax legislation for the 2012-13 tax year, as well as proposed changes that haven't quite made into law yet, the book has you covered from every angle. Designed to help you take advantage of everything from investments to kids to government concessions, Tax For Australians for Dummies tells you everything you need to know to beat the taxman at his own game.
Designed specifically for Australians
Fully updated for the 2012-13 tax year
Includes everything you need to build your tax knowledge
Contains essential new information on claiming home office, work, car, and self-education expenses, and uses case studies to illustrate your opportunities to save
Further updates for this year cover changes to private health insurance rules, tax audits, tax offsets, special disability trusts, and tax issues for companies and trusts
Whether you're an employee, investor, small business owner, retiree, or student, Tax For Australians for Dummies, 2012-13 Edition is the easy-to-follow guide that answers all your tax questions.