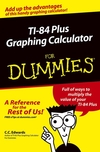 TI-84 Plus Graphing Calculator For Dummies
ISBN: 978-0-7645-7140-4
Paperback
288 pages
June 2004
This title is out-of-print and not currently available for purchase from this site.
C. C. Edwards has a Ph.D. in mathematics from the University of Wisconsin, Milwaukee, and is currently teaching mathematics on the undergraduate and graduate levels. She has been using technology in the classroom since before Texas Instruments came out with their first graphing calculator, and she frequently gives workshops at national and international conferences on using technology in the classroom. She has written forty activities for Texas Instrument's Explorations Web site, and she was an editor of Eightysomething, a newsletter formerly published by Texas Instruments. She is also the author of TI-83 Plus Graphing Calculator For Dummies.
Just barely five feet tall, CC, as her friends call her, has three goals in life: to be six inches taller, to have naturally curly hair, and to be independently wealthy. As yet, she is nowhere close to meeting any of these goals. When she retires, she plans to become an old lady carpenter.