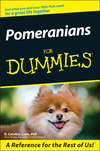 Pomeranians For Dummies
ISBN: 978-0-470-10602-0
Paperback
288 pages
April 2007
US $16.99

Add to Cart
Introduction.
Part I: Pomeranians: What's Not to Love?
Chapter 1: Catching Pomer-mania.
Chapter 2: What's in a Pom?
Chapter 3: In Search of Your Soul Mate.
Chapter 4: The Final Selection: Picking Your Perfect Partner.
Part II: When Your House Becomes Your Pom's Home.
Chapter 5: Prepare to Be Pomerized!
Chapter 6: Coming Home.
Chapter 7: Starting Off on the Right Paw: The First Few Days.
Part III: Caring for Your Pom from Head to Paw.
Chapter 8: Eating Out of the Pom of Your Hand.
Chapter 9: Primping Your Pom.
Chapter 10: Maintaining Your Pom's Health and Happiness.
Chapter 11: Doctoring Your Dog.
Chapter 12: Traveling with a Pom Pilot (Or Leaving Him in Others' Care).
Part IV: Training Your Pom with TLC.
Chapter 13: Saving the Carpets: Housetraining.
Chapter 14: Mastering Manners and Basic Commands.
Chapter 15: Dealing with Doggy Delinquents.
Part V: The Part of Tens.
Chapter 16: Ten Cool Activities to Do with Your Pom.
Chapter 17: Ten Fun Facts about Poms.
Index.