How to Start a New Document in Word 2007
How to Start a New Document in Word 2007
Starting a new document in Word 2007 is easy. If you're just starting Word 2007 and want to open a blank document, you can follow three simple steps.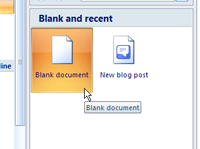 2

Select Blank Document in the Blank and Recent area.

You can find the Blank Document option next to the New Blog Post option.