How to Set a Leader Tab in Word 2010
How to Set a Leader Tab in Word 2010
Using the Tabs dialog box in Word 2010 to set tab stops is the left-brain method. And you can set a leader tab only in the Tabs dialog box (the Ruler doesn't offer this option). A leader tab produces a row of dots, underlining (in a fashion) the tab character:
1

Select the text in your document to which you want to add leader tabs as a block.

You can select text in several ways, including clicking-and-dragging over the text.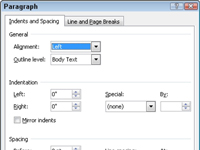 2

Click the Dialog Box Launcher button in the lower-right corner of the Paragraph group on the Home tab.

The Paragraph dialog box appears.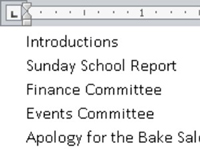 4

Select the tab stop from the Tab Stop Position list.

For example, in this figure, the right tab stop shows up in the Tab Stop Position list as 4″.
5

In the Leader area, select the leader style that you want to use.

None means "no leader," and it's selected already. Select one of the other three options.
6

Click the Set button.

Don't click OK before you set the tab stop to add the leader. This step is the one you'll screw up most often.
7

Click OK.

After clicking the Set button, you can click OK to close the Tabs dialog box and gawk at your text.