How to Electronically Publish a Word 2010 Document
How to Electronically Publish a Word 2010 Document
It's not always necessary to print your Word 2010 documents. You can electronically publish those Word documents, instead. But not everyone can read Word documents. In fact, users of older versions of Word might not be able to read the Word documents you create in Word 2010. To ensure that the files are compatible, you can publish your documents in a more compatible or universal file format:
1

Finish your document.

Yes, that includes saving it one last time.
3

To use a more universal file type, choose Change File Type from the Share menu.

For example, you can choose Word 97-2003 Document (*.doc), Rich Text Format (*.rtf), or Single File Web Page (*.mht, *.mhtml).
4

Use the Save As dialog box to save your document in the special file format, and then click the Save button.

You can, if you want, change the document's filename and location. The Save As Type area of the Save As dialog box has preselected the file type you've chosen.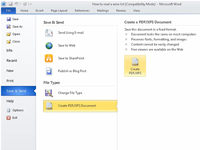 5

If you want to save the file as a PDF (Adobe Acrobat Portable Document Format), choose the option Create PDF/XPS Document from the Share menu and click the Create a PDF/XPS button.

The Publish As PDF or XPS dialog box appears. If necessary, choose PDF (*.pdf) from the Save As Type drop-down list.
6

Give your document a new filename, if you want, or specify a new location for saving the file, then click the Publish button.

The PDF file is created. You need a copy of the Adobe Reader program to view PDF files. Don't worry: It's free.
7

To send your document as an e-mail attachment, choose Share→Send Using E-Mail.

To do this easy e-mailing, you need to use Microsoft Outlook as your e-mail program and have an Exchange Server set up at your organization.
8

Click the Send As Attachment button.

At this point, Outlook takes over and you compose your e-mail message. When you send the message, your Word document is sent along, as well.