How to Apply a Document Theme in Word 2010
How to Apply a Document Theme in Word 2010
Themes apply decorative styles to your Word 2010 document, such as fonts and colors, which gives your prose a professionally formatted look and appeal. Word themes appear on the Page Layout tab's Themes menu: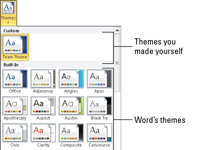 1

Click the Page Layout tab, in the Themes group.

Built-in themes are listed on the Themes button's menu, along with any custom themes you've created.
2

Select a theme from the menu.

Pointing the mouse at a theme previews your document, by showing how it would look if you went ahead and applied that theme. And you can use the various Themes menu commands to search for even more themes.
3

If you don't like the theme you selected, simply select a different one.

Because a document can use only one theme at a time, choosing a new theme replaces the current theme.
4

If you want to change only one part of a theme, click the Colors, Fonts, or Effects command button in the Themes group, and then make the appropriate changes.

For example, you can change which fonts the theme uses. And remember, a theme doesn't overrule styles chosen for a document. Instead, it accents those styles. The theme may add color information, choose different fonts, or present various graphical elements. Beyond that, it doesn't change any styles applied to the text.
5

To remove a theme from your document, select the Office theme.

Alternatively, you can choose the menu command Reset to Theme from Template.