How to Use a Solid (or Transparent) Color for the Slide Background
How to Use a Solid (or Transparent) Color for the Slide Background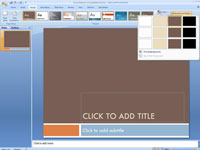 16
On the Design tab, click the Background Styles button.
Background Styles drop-down list opens.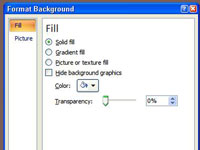 26
Choose the Format Background command at the bottom of the list.
The Format Background dialog box opens. You can also open this dialog box by right-clicking a slide and choosing Format Background.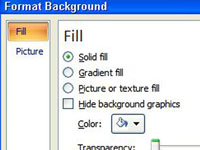 36
Click the Solid Fill option button.
Choose a light color if your slide has dark text.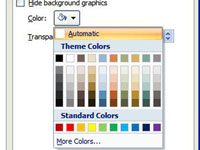 46
Click the Color Picker button and choose a color on the drop-down list.
The muted theme colors are recommended because they look better in the background, but you can select a standard color or click the More Colors button and select a color in the Colors dialog box.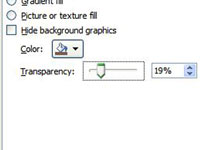 56
Drag the Transparency slider if you want a "bleached out" color rather than a slide color.
At 0% transparency, you get a solid color; at 100%, you get no color at all.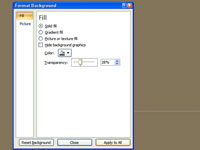 66
Click Apply to All and Click the Close button.
If you don't like the color, try again.