How to Customize the Outlook 2013 Ribbon
How to Customize the Outlook 2013 Ribbon

14
Go to the Outlook module Ribbon, and click the tab that you want to modify.
The Ribbon you're about to modify appears on the screen.

24
Right-click any area of the Ribbon.
A shortcut menu appears.

34
Choose Customize the Ribbon.
The Outlook Options screen appears.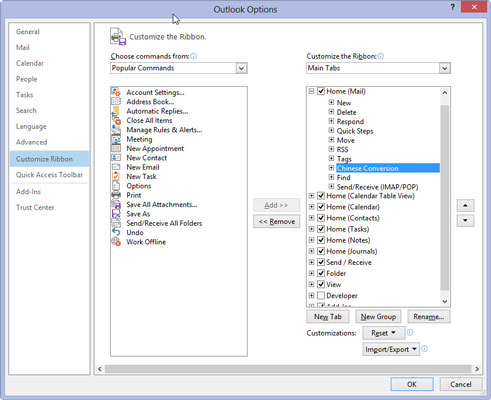 44
Drag the command you want to add to or remove from the Ribbon to the spot where you want it to appear.
By dragging, you can change the order in which buttons appear on the Ribbon to suit your preference. If you want to add a whole new command to a Ribbon, click the New Group button first and then add the command to the new group. For example, if you want to add a Quick Print button to the View tab of any ribbon, you need to create a new group first.
Click OK.