Previewing Excel 2007 Formatting with Live Preview
Previewing Excel 2007 Formatting with Live Preview
Excel 2007 includes the Live Preview feature, which enables you to see how a new font, font size, table style, or cell style would look on your selected data before you actually apply it. This feature saves tons of time that would otherwise be wasted applying format after format until you finally select the right one.
All you have to do to use Live Preview is mouse over the thumbnails in the drop-down menu or gallery to see how each of its styles will look on your actual data. When you see the formatting that fits your data to a tee, just click its thumbnail to immediately apply it to the selected cell range. For example, when working with a table in Excel 2007, the Design contextual tab enables you to use the Live Preview feature to see how your table data would appear in other table styles.
Follow these steps to use Live Preview with the Cell Styles command on the Home tab:
1

Select the cells you want to format.

There are a number of ways to select groups of cells. You can even select non-adjacent cells!
2

Click the Cell Styles button in the Styles group of the Home tab.

A drop-down gallery gives you a wide range of choices and colors.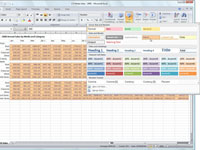 3

Position the mouse pointer over any of the styles in the Cell Styles gallery.

The cell formatting changes to reflect each style as you point to it.
4

Click the desired cell style from the gallery.

The Cell Styles gallery closes and Excel applies the style to the selected cells.

If Live Preview doesn't seem to be working, the feature may have been disabled. Click the Office button and then click the Excel Options button. Click the Popular tab and then select the Enable Live Preview check box under Top Options for Working with Excel. Click OK.