How to Insert Pictures from Graphics Files in Excel 2010
How to Insert Pictures from Graphics Files in Excel 2010
In Excel 2010, you can insert digital photos or scanned images that are saved as graphics files into your worksheets. Adding pictures to an Excel spreadsheet can create a calming effect, especially if the spreadhseet is delivering bad news.
1

On the Insert tab, click the Picture button in the Illustrations group.

The Insert Picture dialog box appears.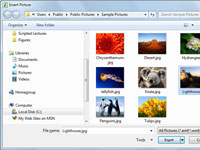 2

Locate and select the picture file you want to import.

Select an item in the File types list if you want to view only certain picture file types.
3

Click the Insert button.

The selected picture appears in the worksheet.
4

Move and resize the image as needed.

Click and drag inside the picture to move it into place, and click and drag the circular resizing handles to change the size of the picture. You can also rotate the image by clicking and dragging the green rotation handle above the image.