Formatting Dates in Excel 2007
Formatting Dates in Excel 2007
Excel 2007 provides several different formats in which to display dates and times in a worksheet. Some date formats appear automatically based on how you type a date entry in a cell. For example, if you type 9/10 in a cell, Excel interprets this as a date and changes the entry to 10-Sep (or whatever your default date format is). Use the Format Cells dialog box to change the way a date appears in the worksheet. You can also use the Number Format drop-down list in the Number group on the Home tab to apply the Short Date, Long Date, or Time format to cell data.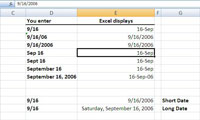 1

Enter a date into a cell.

Depending on what you type, Excel probably displays the date in a different format.
2

From the Home tab, click the Number dialog box launcher.

The Format Cells dialog box appears. You can also open this dialog box by press Ctrl+1.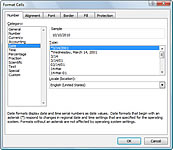 3

Click Date in the Category list.

The right side of the screen displays a variety of different date formats.
4

Select a format for the selected cells.

Scroll down in the Type list to see other date formats, such as those that include the time along with the date.
5

Click OK.

The cell displays the date in the new format.