Creating a New Workbook in Excel 2007
Creating a New Workbook in Excel 2007
If you're working in Microsoft Office Excel 2007 and want to begin work in a new Excel file, you can easily create a new workbook. To do so, you can use a command on the Office menu or a keyboard shortcut.
2

Choose New.

The New Workbook dialog box opens.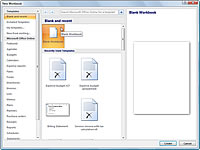 3

Click the Blank Workbook icon.

The Blank Workbook icon resides in the middle pane of the New Workbook dialog box. If you don't see this icon, make sure that the Blank and Recent option is selected near the top of the left pane.
4

Click the Create button.

Excel creates a new, blank workbook based on the default template.