How to Save a Document in Word 2010
How to Save a Document in Word 2010
The most important thing you can do to a Word 2010 document is save it. Create a permanent copy of what you see onscreen by saving the Word document as a file on the PC's storage system. That way, you can use the document again, keep a copy for business reasons, publish it electronically, or just keep the thing for sentimental reasons: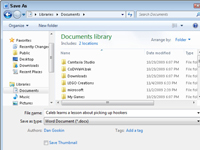 1

Click the File tab and select the Save As command.

The Save As dialog box appears. You need to use the Save As dialog box is when you first create a document and if you want to save a document with a new name or to a different location on disk.
2

Type a name for your document in the File Name text box.

Word automatically selects the first line or first several words of your document as a filename and puts it in the Save dialog box. If that's okay, you can move to Step 4. Otherwise, type a name in the File Name box.
3

(Optional) Choose a location for your file.

Use the various gizmos in the Save As dialog box to choose a specific folder for your document.