How to Resize a Picture in Word 2007
How to Resize a Picture in Word 2007
After you insert a graphic (whether it's a picture, clip art, or an AutoShape) in Word 2007, you probably want to resize it to your liking. Resizing an image is a cinch.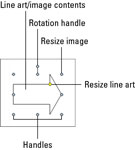 1

Click to select the image.

The image grows multiple little dots. You can click and drag these handles to edit the image.
2

Press and hold the Shift key.

Holding the Shift key keeps the image proportional. Otherwise, you'd change the image's dimensions, distorting it.
3

Use the mouse to drag one of the image's four corner handles inward or outward to make the image proportionally smaller or larger.

If you'd rather not keep the image proportional, skip Step 2 and just grab a handle (a corner handle or one on the four sides) to resize the image. For example, grab the middle top handle and drag up or down to make the image taller or shorter.