How to Modify a Style in Word 2007
How to Modify a Style in Word 2007
When you modify a style in your Word 2007 document, all text formatted with that style is updated with your changes. Here's how to get going with modifications.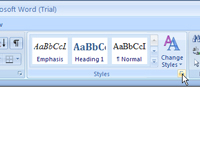 1

Summon the Styles task pane.

Click the Dialog Box Launcher in the lower-right corner of the Styles group (on the Home tab), or press Ctrl+Shift+Alt+S.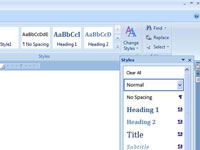 2

Point the mouse at the style you want to change.

A menu button appears on the right end of the style's entry.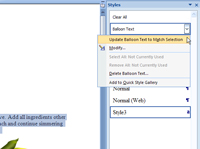 3

Click the menu button to display the style's menu, and choose Modify.

The Modify Style dialog box appears.
4

Change the formatting for your style.

Use any of the formatting options to change your style. You can click the Format button in the lower-left corner of the Modify Style dialog box to display a pop-up list of formatting dialog boxes. Select one to further customize your style.
5

Click OK when you're done.

Close the task pane if you're done with it.