How to Build a 2-Column Right Stop List in Word 2013
How to Build a 2-Column Right Stop List in Word 2013
One type of right-tab stop list you can create in Word 2013 is the 2-column right stop list. This type is commonly found in dramatic programs but works just as well for a variety of purposes. Here's how to concoct such a thing:
1

Start out with a blank line of text.

Position the insertion pointer at the blank line.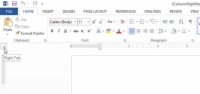 2

Ensure that the Tab gizmo on the ruler shows the right tab stop.

This is essential for this process to work.

3

Click the mouse at the 4-inch position on the ruler.

The position is just a guess at this point. Later, you can adjust the right tab stop setting to a more visually appealing one.

8

Repeat Steps above for every line in the list.

Afterward, you can mark the text as a block and then use the mouse to drag the right tab stop back and forth to whatever looks more visually appealing.

You can drag the left indent (shown in the margin) toward the center of the page to offset the list from the left margin.