How to Assign Shortcut Keys in Word 2007
How to Assign Shortcut Keys in Word 2007
Word 2007 enables you to assign timesaving keyboard shortcuts to your favorite styles. You can then apply a style by simply pressing the keyboard shortcut.
1

Display the Styles pane.

Press Ctrl+Shift+Alt+S or click the dialog box launcher in the lower-right corner of the Styles group on the Home tab.
2

Point the cursor at the style you want to modify.

Don't click the style; just point the cursor at it.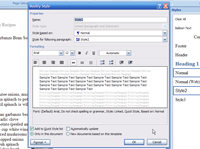 3

Click the down arrow that appears next to the style, and then choose Modify from the menu that appears.

The Modify Style dialog box appears.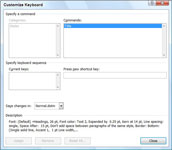 4

Click the Format button and then choose Shortcut Key.

The Customize Keyboard dialog box appears, ready for you to assign a keyboard shortcut for the style.
5

Click in the Press New Shortcut Key text box, and then press the key combination that you want to assign to the style.

When you press the keys, Word writes out the key combination for you. The plus sign indicates that the keys must be held down together.
6

Verify that the shortcut isn't already in use.

If you choose a command already in use, then a line appears under the Current Keys box to tell you that it is currently assigned and which command is using it. You can then decide whether you want to find a different shortcut to use or remove it from the command that already has it.
7

Click Assign.

Word assigns the keyboard shortcut.
8

When you are done, click Close, and then click OK.

You're ready to rock and roll with your freshly made shortcut!