Use the PowerPoint 2007 Research Task Pane
Use the PowerPoint 2007 Research Task Pane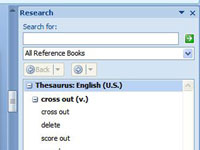 15
On the Review tab, click the Research button.
The Research task pane appears.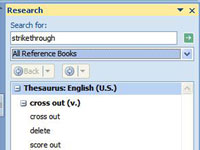 25
Type a research term.
Click in the Search For text box and type away.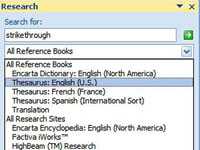 35
Open the Search For drop-down list and tell PowerPoint where to search.
Choose a reference book, research Web site, or business and financial Web site. To research in a category, choose a category name — All Reference Books, All Research Sites, or All Business and Financial Sites.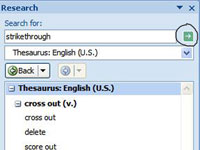 45
Click the Start Searching button.
The results of your search appear in the Research task pane. If your search yields nothing, scroll to the bottom of the task pane and try the All Reference Books or All Reference Sites links to searches all dictionaries, the thesauruses, and the translation services.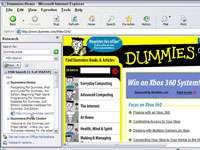 55
Retrace a search by clicking the Previous Search button or Next Search button in the Research task pane.
These buttons work like the Back and Forward buttons in a Web browser. They have drop-down lists that you can open to backtrack or move forward in a search. Sometimes a hyperlink to a Web site appears in the search results. If you click one of these hyperlinks, your browser (if you're using Internet Explorer) opens with the Research task pane on the left. Continue using the Research task pane in the browser window.