How to Use the PowerPoint 2007 Print Dialog Box
How to Use the PowerPoint 2007 Print Dialog Box
Printing your PowerPoint presentation is easy. PowerPoint gives you plenty of printing options. The PowerPoint Print dialog box gives you precise control over how your presentation is printed. To print your PowerPoint presentation, follow these steps: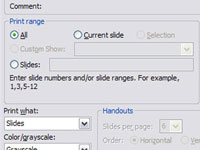 2

(Optional) Enter slide numbers in the Print What box to print only certain slides.

You do this if you only want to print certain slides.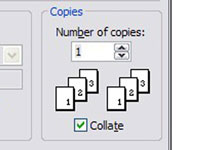 3

(Optional) Click the up or down arrows in the Copies sections to control the number of copies to print.

You can print as many or as few copies as you want.