How to Use Comments in Your PowerPoint 2007 Presentation
How to Use Comments in Your PowerPoint 2007 Presentation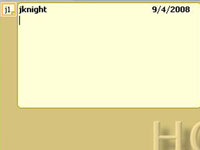 16
Open the Review tab on the Ribbon and then click the New Comment button.
A comment bubble appears on the slide. Your initials and a comment number appear in the small box next to the bubble.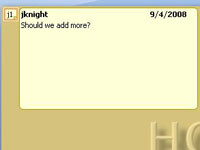 26
Type your comment in the bubble.
Whatever you need to say, now's your chance.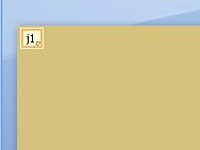 36
Click outside the comment bubble to close it.
Only the comment tag (the little box with the reviewer's initials and comment number) remains.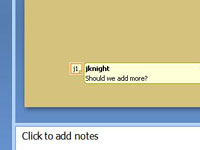 46
Move the comment tag.
You can move the comment closer to the slide item on which you're commenting by dragging the comment tag around the slide. To change a comment, double-click the comment tag and then edit the text in the comment until you're satisfied.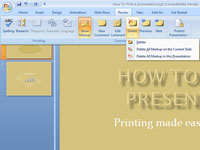 56
To delete a comment, click the comment to select it and then press Delete.
To delete comments on a slide, click the down arrow beneath the Delete button on the Review tab. Then choose Delete All Markup on the Current Slide. To delete all the comments in a presentation, click the down arrow beneath the Delete button and choose Delete All Markup in This Presentation.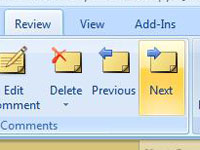 66
Click the Previous and Next buttons on the Review tab on the Ribbon.
Scan through all comments.