How to Use a Clip-Art Image in a PowerPoint 2007 Slide Background
How to Use a Clip-Art Image in a PowerPoint 2007 Slide Background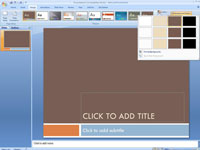 17
On the Design tab, click the Background Styles button.
The Background Styles drop-down list opens.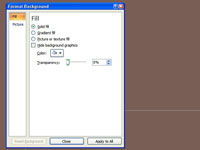 27
Choose the Format Background command at the bottom of the menu.
The Format Background dialog box appears.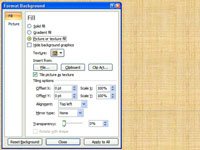 37
Click the Picture or Texture Fill option button.
Background options appear.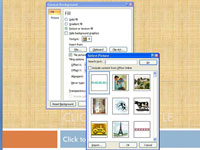 47
Click the Clip Art button.
The Select Picture dialog box displays images from the Office clip-art collections that came with PowerPoint when you installed it.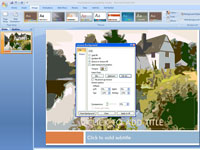 57
Select the clip-art image you want and click OK.
The image is inserted.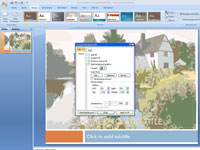 67
In the Format Background dialog box, enter a Transparency measurement.
Drag the Transparency slider or enter a measurement in the box. The higher the measurement, the more transparent the image is.
77
Click the Apply to All button and then click Close.
All of your slides have the same background.