How to Draw Straight Lines on PowerPoint 2007 Slides
How to Draw Straight Lines on PowerPoint 2007 Slides
PowerPoint provides a Line button so you can draw straight lines on your slides. With your PowerPoint slide open, choose a location for your line, then follow these steps: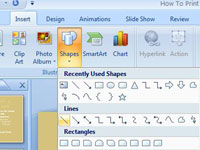 1

Click the Line button in the Shapes group on the Insert tab.

The button's icon looks just like you'd think it would — a straight line.