How to Change the Notes Master in PowerPoint 2007
How to Change the Notes Master in PowerPoint 2007
PowerPoint lets you create notes pages with a reduced image of your PowerPoint slide, and any notes that go along with the slide. When printed, notes pages are formatted according to the Notes Master. Be sure you add page numbers to your speaker notes. That way, if you drop a stack of notes pages, you can use the page numbers to quickly sort them back into order.
To change the Notes Master, follow these steps: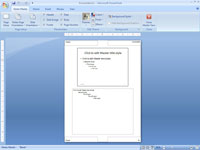 1

Choose ViewPresentation ViewsNotes Master.

The Notes Master opens.

The Notes Master contains two main placeholders: one for your notes text and the other for the slide. You can move or change the size of either of these objects, and you can change the format of the text in the notes placeholder. You also can add or change elements that you want to appear on each handout page. Also notice the convenient placement of the header, footer, date, and page number blocks.
2

Click Close Notes Master tab.

PowerPoint returns to Normal View.
3

Print your notes.

This way, you can see whether your changes worked.