How to Add a New PowerPoint 2007 Slide with a Chart to Your Presentation
How to Add a New PowerPoint 2007 Slide with a Chart to Your Presentation
You can add a new slide to your PowerPoint 2007 presentation to contain a chart, or you can add a chart to an existing PowerPoint slide. The following procedure shows how to insert a new slide that contains a chart:
1

Move to the slide that you want the new slide to follow.

That's the slide just before the place you want the new one.
2

Click the Home tab and then click the Add Slide button in the Slides group.

This action reveals a list of slide layouts.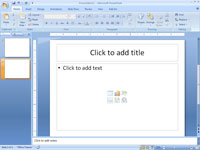 3

Click a slide layout that includes a Content placeholder.

Several slide types include a Content placeholder. When you click the one you want, a slide with the selected layout is added to your presentation.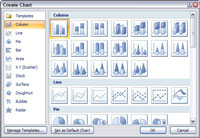 4

Click the Chart icon in the middle of the Content placeholder.

The Chart icon is the one in the middle of the top row of icons. Clicking this icon summons the Create Chart dialog box.
5

Select the type of chart you want to create.

Pie chart? Bar chart? Donut chart? Radar chart? You have a wide variety from which to choose.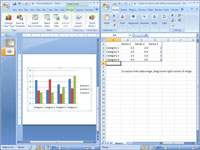 6

Click OK.

PowerPoint launches Excel and rearranges your screen so that PowerPoint and Excel are displayed side by side. You'll have to replace the sample data with your own information.