How to Add a Date, Number, or Footer to PowerPoint 2007 Slides
How to Add a Date, Number, or Footer to PowerPoint 2007 Slides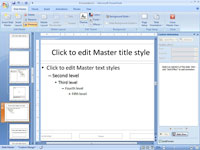 15
Click the Insert tab on the Ribbon and then click the Header and Footer button (found in the Text group).
The Header and Footer dialog box appears.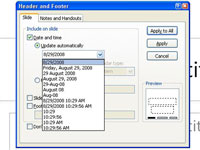 25
Select the Date and Time check box.
Then select the date format that you want in the list box beneath the Update Automatically radio button.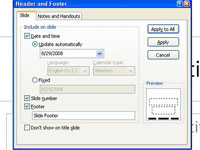 35
Select the Slide Number check box, and select the Footer check box.
The footer appears, where you can type the text that you want to appear on each slide in the Footer text box.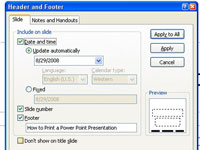 45
(Optional) select the Don't Show on Title Slide check box.
Choose this option if you want the date, number, and footer to appear on every slide except for the title slide.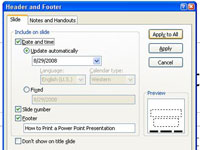 55
Click Apply to All.
If you want to change the Footer areas for just one slide, click Apply instead of Apply to All.