Change the Size of PowerPoint 2007 Slides
Change the Size of PowerPoint 2007 Slides
PowerPoint presentations are designed to fill a computer monitor screen. If your PowerPoint slides aren't doing that, you may have inherited an old PowerPoint presentation with slides that need resizing. In that case, follow these steps to choose a new size for the slides in your presentation: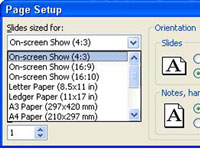 3

Click the down-arrow on the Slides Sized For drop-down list and choose an On-Screen Show setting.

You can choose 4:3, 16:9, or 16:10. These settings determine the width-to-height ratio of slides when they are displayed at full-screen size during a presentation. The commands in the Page Setup dialog box apply to all the slides in a presentation.