How to Create Quick Parts in Outlook 2013 to Save Keystrokes
How to Create Quick Parts in Outlook 2013 to Save Keystrokes

14
Drag your mouse over some text in an e-mail message to select it.
The text you select is highlighted.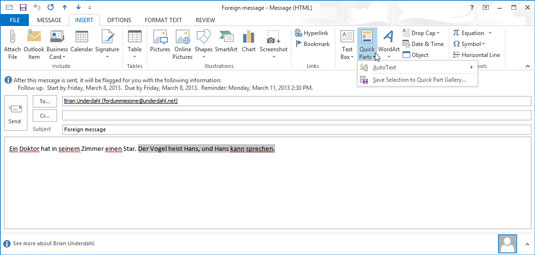 24
Click the Insert tab and choose Quick Parts in the Text group of the Ribbon.
A drop-down menu appears.

34
Choose Save Selection to Quick Parts Gallery.
The Create New Building Block dialog box appears.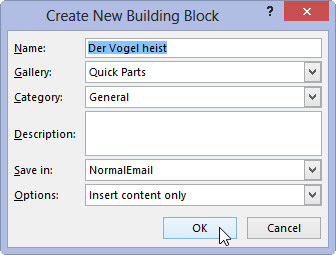 44
Type a new name for your Quick Part if you don't like the one you see.
The suggested name might be fine, but you may prefer something else. You can also assign a category and description to your Quick Part, but that makes very little difference in how you use it, so you can leave that alone.
Click OK.
After creating a Quick Part, you can make it appear in an e-mail body in a flash: Click Quick Parts in the Ribbon and click the Quick Part you want. It's so easy, you'll never want to send an original e-mail again.