How to Create a New Contact Record in Outlook 2013
How to Create a New Contact Record in Outlook 2013

14
Click the Mail button in the Navigation bar (or press Ctrl+1).
A list of your current incoming e-mail messages appears.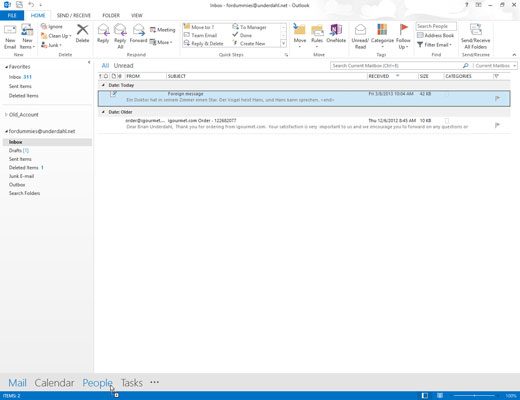 24
Select the message for which you want to make a contact record and drag it to the People button in the Navigation bar.
The New Contact form opens, with the name and e-mail address of the person who sent the message filled in.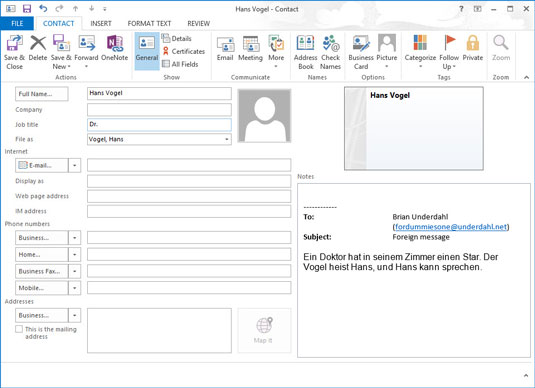 34
If you want to include more information, type it into the appropriate box on the New Contact form.
You can change existing information or add information — the company for whom the person works, the postal mail address, other phone numbers, personal details (say, whether to send a complimentary gift of freeze-dried ants for the person's pet aardvark), and so on.
If the body of the e-mail message contains information you want to use as contact information, select that information and drag it to the appropriate box of the New Contact form.

44
Click the Save & Close button.
You now have the e-mail address and any other information for the new contact stored for future reference.
Another quick way to capture an e-mail address from an incoming message: Right-click the name of the sender in the incoming message's From field (in the Reading pane; this won't work if you right-click the From address in the message list).
The From field is not a normal text box, so you may not think that right-clicking it would do anything, but it does: A shortcut menu appears. Choose Add to Outlook Contacts to open the New Contact form, and then follow the last two steps of the preceding list.