How to Attach Flags with Customized Reminders to E-Mail Messages
How to Attach Flags with Customized Reminders to E-Mail Messages

16
Click the Mail button in the Navigation bar (or press Ctrl+Shift+I).
The Inbox screen opens, showing your incoming mail.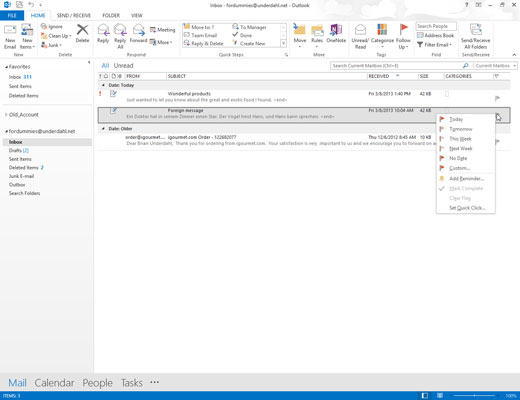 26
Right-click the flag on the message you want to flag.
The flag shortcut menu appears.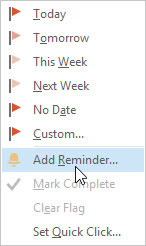 36
Choose Add Reminder.
The Custom dialog box appears. At this point, if you click the OK button (or press Enter), your message is flagged and set to remind you at 4:00 p.m. today. That may be a wee bit too soon — especially if it's already after 4:00 p.m. — so you can set more detailed options by using the remaining steps.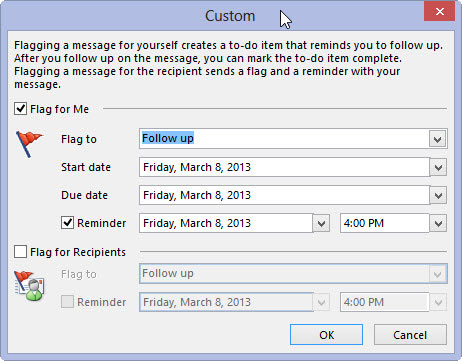 46
Click the triangle at the right end of the Flag To text box and choose one of the menu items (or type your own choice).
One handy flag is Follow Up, which reminds you to confirm an appointment or other arrangement.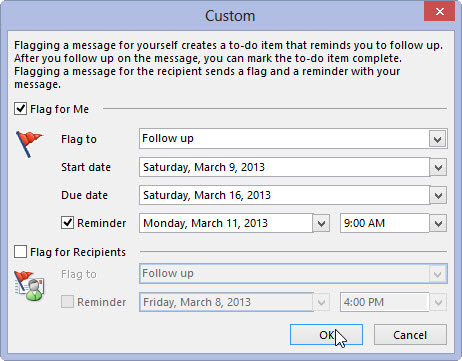 56
Enter dates in the Start Date box, Due Date box, Reminder box, or all the boxes.
The date and time you type in the Reminder box indicate when a reminder will pop up to jog your memory. The other two dates help you keep track of how many tasks you're juggling at once. You can be pretty loose about how you enter dates in Outlook.
You can type the date 3/2/13; Outlook understands. You can type first Wednesday of March; Outlook understands. You can type week from Wednesday; Outlook understands that to mean "seven days after the Wednesday that comes after today." You don't even have to worry about capitalization.
If you'd rather just pick a date from a calendar, you can click the arrow at the right end of any of the date boxes to reveal a calendar and then just click the date you want.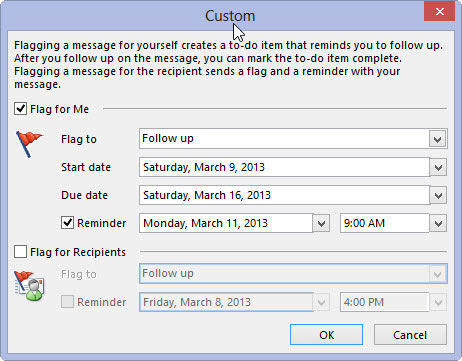 66
Click OK.
When the reminder date you entered in the Custom dialog box arrives, a reminder dialog box helps give you a gentle nudge.