How to Change Mac Snow Leopard's Time Machine Preferences
How to Change Mac Snow Leopard's Time Machine Preferences
Time Machine is a Mac OS X Snow Leopard application designed to make backups easy. To change Time Machine settings, open System Preferences by clicking the gear icon on the Dock then open the Time Machine pane. From there you can control how automatic are backups performed by Snow Leopard's Time Machine feature and other tasks.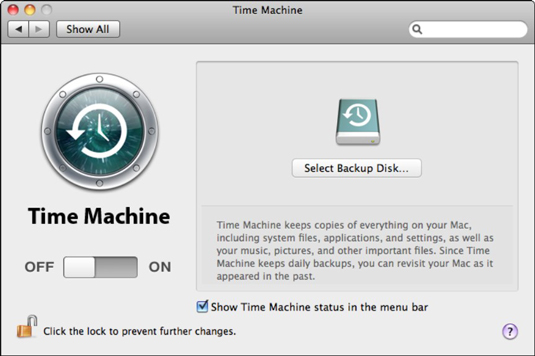 Configure your backups with these Mac Snow Leopard Time Machine settings.
To enable Time Machine, click the On toggle switch and then select a disk that will hold your Time Machine backup data on the sheet that appears; click Use for Backup to confirm your choice. If you have an external Time Capsule wireless unit, click Set Up Time Capsule.
By default, Time Machine backs up all the hard drives on your system; however, you may not need to back up some hard drives or folders on your Mac. To save time and hard drive space, Time Machine allows you to exclude specific drives and folders from the backup process. Click Options and then click the Add button (with the plus sign) to select the drives or folders you want to exclude, and they'll appear in the Do Not Back Up list.
To remove an exclusion, select it in the list and click the Delete button (with the minus sign). Note the Total Included figure increases, and Time Machine adds the item you deleted from the list to the next backup.
By default, Snow Leopard warns you when deleting older backup files, but you can turn this off from the Options sheet as well.
You can elect to back up your Mac immediately by clicking the Time Machine icon in the Finder menu bar and choosing Back Up Now.