How to Add a Background Shape to a Keynote Slide
How to Add a Background Shape to a Keynote Slide
Mac OS X Snow Leopard makes creating a slide presentation easy, using Keynote. As you format your slide, remember that text often stands out on a slide when it sits on top of a background shape. Adding a circle or rectangle in the slide background might be just the touch you needed to complete your slide.
To add a shape as a background for your text, follow these steps: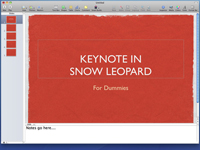 1

Click the insertion cursor in the location you want.

Don't worry too much about placement. You can fine tune it later.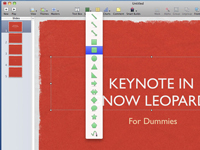 2

Click the Shapes button on the Keynote toolbar and choose a shape.

The shape appears in your document.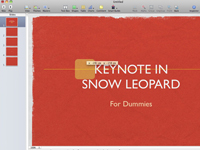 3

Click the center of the shape and drag it to a new spot.

As with image boxes, shapes can be resized or moved.