How to Add an Auto Text Command to Dragon Professional Individual
How to Add an Auto Text Command to Dragon Professional Individual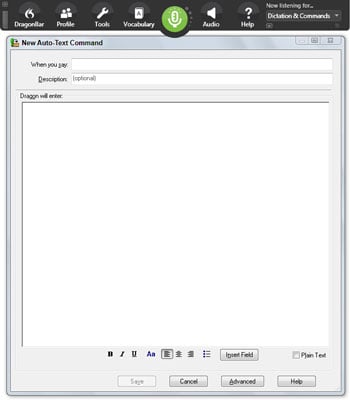 14
Choose Tools →Add New Auto-Text.
You are presented with a New Auto-Text Command screen.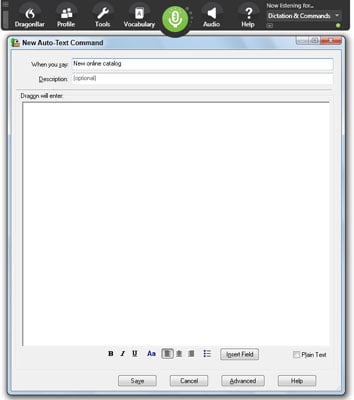 24
Say or type the name of the command in the When You Say dialog box.
Choose a name. In this example, New Online Catalog was entered, as shown. After you have put in the name, dictate your message. Then position your cursor where you want to insert the variable.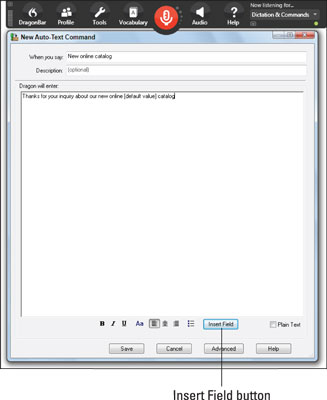 34
Click the Insert Field button.
The field is now inserted as a default value.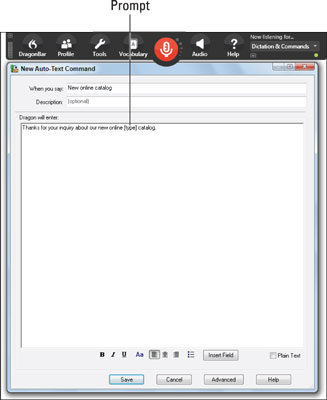 44
Replace "[default value]" with a prompt for the variable that you will insert.
In this example, the word type was inserted to prompt you to put in the type of catalog you are sending. In this case, "engineering" is the type.
Click save. When you use that command in the future, you will be able to dictate that variable.