The My Settings Page of Salesforce.com Service Cloud
The My Settings Page of Salesforce.com Service Cloud

14
Click your name at the top right of any page in Salesforce.
Depending on your organization's settings, the Setup link will either be displayed to the right of your name in the header or as a drop‐down option beneath it.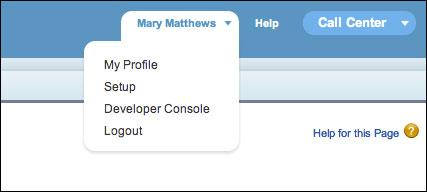 24
Choose My Settings.
A sidebar appears on the left side of the page with a My Settings menu. The main page has Quick Links and Desktop Add‐Ons that provide users easy access to common settings.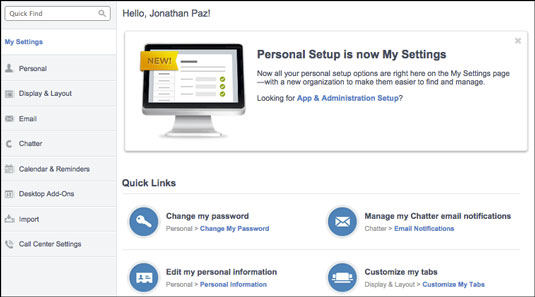 34
In the sidebar, click all the plus signs (+) to the right of the headings to expand them.
All the options appear in the sidebar under their respective headings.

44
Under Personal, click the first menu item, Personal Information.
Your user detail record appears, showing you your user information in Salesforce.
To quickly find a specific heading or subheading in the My Settings menu, go to the Quick Find bar at the top of the sidebar and start typing what you're looking for. Salesforce will filter down your options as you type, saving you substantial time.