How to Use Job Estimates in QuickBooks 2010
How to Use Job Estimates in QuickBooks 2010
If you've told QuickBooks 2010 that you want to create estimates — which you do during the QuickBooks setup — you can create job estimates of amounts you later invoice.
2

Select the customer, or customer and job combination, from the Customer:Job drop-down list.

If the customer is a new customer that you haven't yet described in the Customer List, enter a brief name for the customer in the Customer:Job list. QuickBooks then indicates that the customer doesn't yet exist on the Customer List and asks whether you want to add the customer; indicate that you do. When prompted, supply the customer information that QuickBooks requests.

When you invoice a customer for whom you have previously prepared an estimate, QuickBooks displays a list of the previously prepared estimates and lets you select one of these estimates as the starting point for an invoice. (This shortcut can be a real time saver.)
3

(Optional) Classify an estimate as fitting into a particular category by using the Class drop-down list.

You can use classes to get a better handle on your business's finances.
4

Confirm or provide new invoice header information.

After you identify the customer, QuickBooks fills out the Date, Estimate #, and Name/Address fields. You probably don't need to change any of this information. You should review the information shown in these boxes to make sure that it is correct.
5

In the columns area, describe each item — each product or service — included in the estimate.

Use a single row for each item. The first item that you want to estimate, then, goes into row 1 of the columns area. For each item, you enter information in the Item, Description, Quantity, Cost, Total, Class, and Tax columns.
6

Enter additional items onto the estimate by entering additional rows.

Each item that you want to estimate appears as a row in the columns area.
7

In the Customer Message text box at the bottom of the Create Estimates window, supply a customer message that appears at the bottom of the estimate.

You can provide further description of the estimates you've made.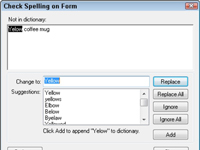 8

(Optional) Check your spelling by clicking the Spelling button.

QuickBooks checks the spelling of the words that you've used on the estimate. If QuickBooks finds no spelling errors, a message appears that tells you the spelling check is complete. If QuickBooks finds a spelling error, it displays the Check Spelling on Form dialog box, where you can make changes.
9

Click either the Save & Close button or the Save & New button to save your invoice.

Click the Save & Close button if you want to save the estimate and close the Create Estimates window. You use the Save & New button if you want to save the estimate and then enter another estimate into the blank version of the Create Estimates window.