How to Make Bank Deposits through QuickBooks 2010
How to Make Bank Deposits through QuickBooks 2010
QuickBooks 2010 supplies a command and window for recording bank deposits. You can even have QuickBooks give you cash back for the deposit you make.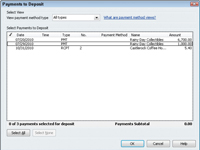 1

Choose Banking→Make Deposits.

The Payments to Deposit dialog box appears. (Note: QuickBooks goes right to the Make Deposits window and skips the Payments to Deposit dialog box if there are no pending deposits to make.)
2

Select the payments you want to deposit from the list box.

You can select all the payments listed by clicking the Select All button. You can select individual payments by clicking them. QuickBooks marks selected payments with a check mark.
4

In the Deposit To drop-down list, select a bank account.

Identify the bank account into which you're depositing the funds.
5

In the Date text box, identify the deposit date.

You can enter the date in mm/dd/yyyy fashion, or you can click the small calendar button to the right of the Date field. On the calendar that appears, click the day that you want the Date field to show.
6

(Optional) Change the memo description in the Memo field.

Initially, QuickBooks uses the Memo field to describe the transaction as a deposit. If you want to change the memo description to something else even more useful — such as daily cash sales or something like that — replace the contents of the Memo box.
7

To describe an additional payment, identify who's making the payment in the Received From column.

A customer, vendor, or other individual or business can make the payment.
8

In the From Account column, identify the account that should be credited for this additional payment.

In the case of a customer payment that's a sale, for example, your sales revenue account should be the one recorded in the From Account column.
9

In the other columns of the Make Deposits window, provide the other details of the additional payment.

These columns include Memo, Chk No., Pmt Meth., Class, and Amount.
10

If you want to record a cash back amount, enter account that should be adjusted for the cash back in the Cash Back Goes To text box.

Use the Cash Back Memo text box to describe the reason for the cash back transaction.
11

Enter the cash back amount into the cleverly titled Cash Back Amount text box.

For example, if you want to hold $100 of cash back, enter $100 in the Cash Back Amount box.
12

Click either the Save & Close or the Save & New button to save your deposit transaction.

QuickBooks records the deposit into the appropriate bank account. This deposit transaction total — which shows at the bottom of the window in the Deposit Total field — is the amount that appears on your bank statement. It's also the amount that appears on the bank account register.