How to Set Up Case Teams in Salesforce.com Service Cloud
How to Set Up Case Teams in Salesforce.com Service Cloud
Sometimes you need team members to help out with specific issues that you just don't have the expertise or authority to solve. One of the ways agents can work together in Service Cloud is by using the Case Teams functionality. Choose Setup→Build→Customize→Cases→Case Teams→Case Team Roles and follow these steps to set up a case team:
2

Fill in the Member Role Name and select the level of access for that role from the Case Access picklist.

Optionally, click the Visible in Customer Portal check box. Check this box if you have the Customer Portal and want the member in the role to be visible to users there.
3

Click Save when you're done.

Alternatively, click Save & New to save the role and immediately create another.

After you have a few case team roles set up, make sure the Case Teams related list appears on your case page layout(s).
4

Choose Setup→Build→Customize→Cases→Page Layouts.

Click the Edit link on the left side of the case page layout(s) you want to modify. The enhanced page layout editor appears for the selected layout.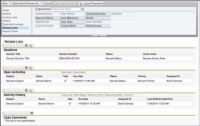 5

On the top‐left toolbar of the layout editor, select Related Lists.

The page automatically scrolls down to the related list section of the layout and the available related lists appear in the editor, while the lists in use appear grayed out.
6

Click Case Team from the available related lists, and drag it wherever you want it to appear on the page.

The Case Team related list appears on the page.
7

Click Save when you're finished.

The system asks if you want this change to overwrite the personal customizations of your users. Click Yes or No depending on your preference. The Case Page Layout page appears again.

Now that you've set up case teams for your organization, your case owners can add collaborators to their cases.