How to Create a PDF Presentation with the Adobe Output Manager
How to Create a PDF Presentation with the Adobe Output Manager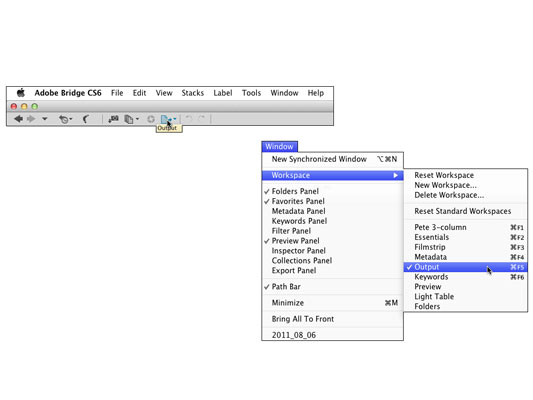 16
Access the Output panel by clicking that workspace's button, selecting Output through the Window→Workspace menu, or using the shortcut shown.
In Bridge's Output panel, you can quickly and easily create both on-screen presentations (complete with fancy transitions between images) and multi-page PDF documents (suitable for distribution and printing).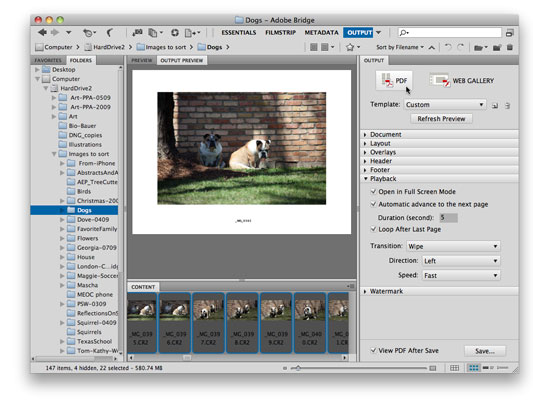 26
Select the thumbnails of the images you want to include.
You can click and then Shift+click to select a series of images or Command+click (Mac)/Ctrl+click (Windows) to select individual images.
Hint: You must select the images; you can't select only the folder. Bridge automatically skips any non-image files that are selected.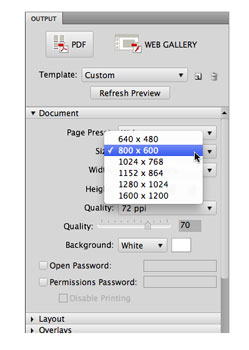 36
In the Document section, choose an appropriate size.
Choose one of the web presets, rather than a paper size. Adobe Reader can scale the presentation, so 800×600 pixels is a good choice unless you know the presentation will always be played back on a larger monitor. Choose your background color (black is an excellent choice) and determine whether you want to require a password to open the document or to make the presentation non-printable.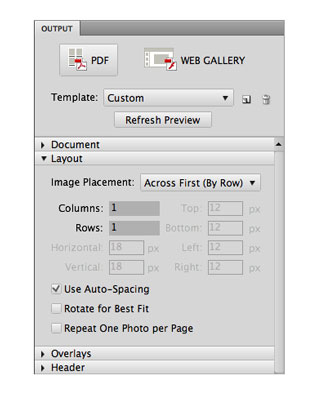 46
Choose a layout of one-by-one.
Unless you actually want more than one image displayed in each frame of the presentation, use a layout of one column and one row.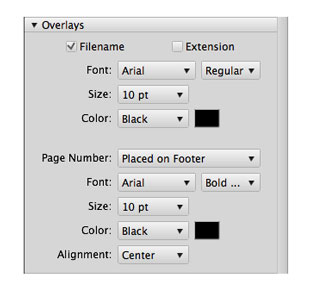 56
(Optional.) Add the filename, a header, a footer, or a watermark to each frame.
In the Overlays section, you can elect to add the filename (with or without the file extension) below each image, choosing the font, style, size, and color of your choice. The Header and Footer sections enable you to add a text message (customizable, of course) to the top and/or bottom of each slide of your presentation.
You can also add a watermark, perhaps your copyright information at a reduced opacity, across the center of the image. Your options in the Watermark section include all the font choices, Opacity, and Foreground or Background. (Unless your images include transparency or reduced opacity, select Foreground.)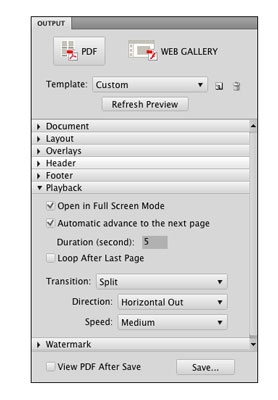 66
Choose your playback options.
You select whether you want the presentation to fill the screen, how long each frame will be displayed, whether the presentation plays once or continuously, and how it changes from frame to frame.
Preview your presentation. Click the Refresh Preview button near the top to make sure you'll get want you want.
Save your presentation. Way down at the bottom of this dialog box, you can choose to view the presentation (or not) when ready with the View PDF After Save option. Click the Save button, name the presentation (Bridge will automatically add the .pdf file extension), choose a location in which to save, and click Save.